#FFF Let's Keep Talking Email Marketing…
Your Subject Line.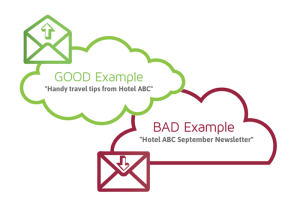 So here's the thing, how many times do you think you have sent out an eblast with the same subject line? Commonly, a different subject line might spark new interests and new opportunities for engagement.  Here are some tips for next week:
1. Even if it is an ordinary eblast, try changing it to: Top News for … OR lead with a headline, "News: Easter was a BIG deal!"
2. If your email infrstatructure allows it, try testing the regular subject line and a new subject line with two separate lists. Split test your list and start seeing a different result.
Try something new!
…get ready to be surprised!