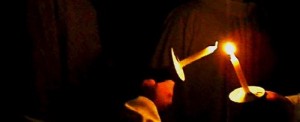 Beginning this evening, God's holy Church will once again celebrate the Sacred Paschal Triduum – recalling Christ's Passion, Death and Resurrection with greater intensity, but with no less fervor, than we do each day.
Once again, we will pray ancient texts and perform ancient rituals.
Once again, we will be reminded of the great gift of the Eucharist.
Once again, we will grieve at the foot of the Cross with the knowledge that Christ died for our sins.
Once again, we will welcome new members into our Church – a sign that the world (and each of us) is always in need of redemption and that the Good News must always be proclaimed.
Once again, we will sing glad songs and announce Christ's Resurrection with a word that has been silent for a few weeks, but whose glad tidings are never diminished.
Once again, in word and sacrament, darkness and light, symbol and gesture, renunciation and profession, song and silence, water and oil, and bread and wine, we will recall and make present the saving actions of our Lord.
~From Dr. Dolly Sokol, PhD
Executive Director
Office of Development
Archdiocese of Santa Fe
Thank you Dr. Dolly for sharing this reflection. On behalf of the staff at Design Big Dreams, we wish you all a blessed Triduum and a very happy Easter celebration.
God bless,
Design BIG Dreams