Flash Forward Fridays #FFF
This may be because of Lent and a sense of obligation and renewal, however I am going to make a Lenten commitment here by writing every Friday! I am going to call it Flash Forward Fridays or #FFF.
Every Friday I tend to do two things at the end of my day:
1. Review what went on that particular week and what I did about it…or didn't do
2. Figure out what I need to be focused on next week…and doing what I didn't get done from #1
Well, I want to add on one more item each Friday to my list that has no relation to the task list from the previous week. Something fresh, brand new, maybe never thought of or maybe part of a larger goal. I am hoping to send some inspiration out in the digital world to push a goal, objective, or task for the upcoming week. Rather it be thoughtful, inspirational or something I have been procrastinating on my "To Do" list, I will make an effort to make it relevant to all of you.
#FFF for the Week of March 1st 
Ever wish you had a more engagement in your donor pool? Ever look at your "middle-of-the-road" donors?…those donors who don't fit into your top tier, but also are not the donors who give one-time low gifts. That middle-of-the-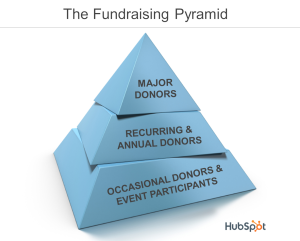 road crowd is commonly overlooked. They are the tomorrow's major donors if you are communicating with them correctly. Think of your own donor pyramids (which are not always a symmetrical pyramid) let's find 3 people who fit in the "middle" category and call them next week. Say thank you for their support, and ask them what their "story of involvement" is for your organization
… get ready to be surprised!