Our gif made it to the big screen!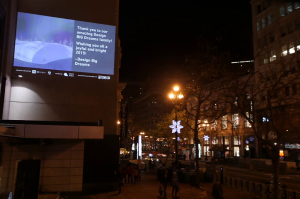 Thank you to our amazing Design Big Dreams clients! We wanted to do something special to highlight you all and tell you publicly that we are grateful for your support.
The project above was our opportunity to do just that! 
GIF the Halls is a project by WP Engine Labs with technical support from 10up. It's powered by WordPress, an open source blogging tool and content management system. Our digital artists were curated by Gray Area Foundation and our fantastic locations in downtown SF were made possible with help from the Yerba Buena Community Benefit District.
GIF the Halls was a creative spin on the greeting cards of the future. They commissioned 7 digital artists from the Bay Area and beyond, to put their own unique spin on the art of the holiday card. The art will be publicly viewable along Market Street, between the hours of 6pm – 6am on December 20th through the 24th.
A big thanks to our artists: Mitch Trale, Chromasy, Toyoya Li, Jono Brandel, Steve Teeple, Colin Sebestyen, and Doctor Popular for creating these exclusive GIF the Halls' designs.
– See more at: http://gifthehalls.com/about/